THis season, I have seen lots of mixing. Whether it be mixing of patterns, textures, colors, it's everywhere…and it's something you should give a shot. Although you may think mixing patterns could end up looking like a thrift shop outfit gone wrong, there are ways to incorporate this interest into your outfit, without going overboard. The same goes for texture!
Let's take a look shall we?
The first and holiday appropriate look I found on Anthropologie.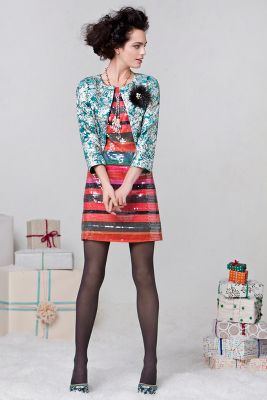 Why this works for me:
The bold colors in the dress balance out the lighter shades in the jacket. The brocade of the jacket goes nicely with the sequined shine of the dress. Both pieces are pretty bold, but the colors off set each other, and make it all flow perfectly.
Look Number 2: LookBook.nu
Why this works:
This look is a little bit more tame than the first. We have a floral blazer with a small patterned skirt. The colors of the blazer help brighten and soften the pattern on the skirt. A fun contrast! Love it!
Another Look From Anthropologie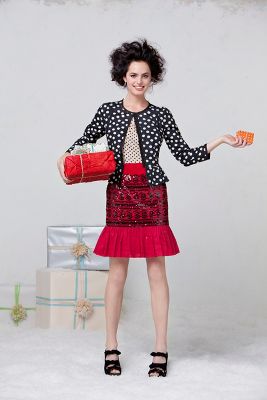 Why this works:
I love the mixture of different sizes of dots in this ensemble. The inverted colors pop and are oh so fun! Then you add the embellished sparkly skirt, and you are all set for the holidays. Such a fun quirky look!
Have a great Monday!
<3Amy